The Truman State University Art Gallery is committed to the belief that art matters. It changes lives, documents and reflects our experiences, and shows us worlds and perspectives other than our own. We also believe that the liberal arts and sciences matter. Knowledge does not exist in isolation; particularly in the information age it is interconnected, is created, developed, and maintained communally, and is changeable over time and across cultures.
Each year the University Art Gallery hosts exhibitions of faculty and student art, art historical exhibitions, and exhibitions of regional contemporary art.
---
2019-2020 University Art Gallery Schedule
Fall 2019
---
August 27 – September 27
New Work by Truman State Art Faculty
Laura Bigger, Lindsey Dunnagan and Eric Ordway
Professor of printmaking Laura Bigger, professor of painting Lindsey Dunnagan, and professor of ceramics Eric Ordway will show their recent work in this year's faculty exhibition.
Opening reception
Tuesday, August 27, 5-6 p.m.
---
October 4 – November 21
Brick & Mortar: Community and Curation at Flood Plain
Brick & Mortar: Community and Curation at Flood Plain is guest-curated by Flood Plain, a non-profit artist-run gallery located in St. Louis, MO and a new regional partner of Truman State University's Art Department. Brick & Mortar takes its name from the exposed brick wall that comprises one side of the Flood Plain gallery space—a feature that connects the space to the brick-based architecture of its surrounding neighborhood. The exhibition contemplates what it means to operate a physical gallery in the twenty-first century, making the case for the enduring importance of community-oriented curatorial practice. Bringing together many of the artists Flood Plain has exhibited since its opening in 2017, Brick & Mortar explores the formal and topical connections between the diverse group of St. Louis-based artists, many of whom explore placemaking and social engagement.
Curator talk and opening reception
Friday, October 4, 5:00-7:00 p.m.
---
December 2-6
BA/BFA Thesis Exhibition – in the main gallery
A Strong Foundation – in the Charlyn Gallery
Closing reception
Friday, December 6, 6:00-7:30 p.m.
---
Spring 2020
---
January 21 – February 28
Every Breath We Drew – Jess Dugan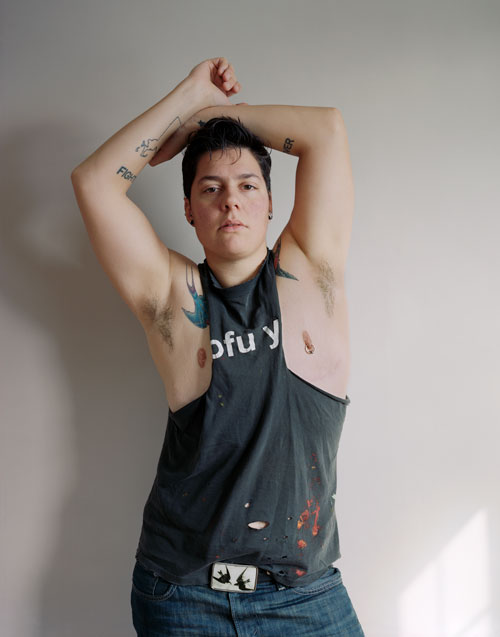 In her body of work Every Breath We Drew, Jess T. Dugan uses photography to capture portraits of her sitters and herself in rich and personal detail. The individuals represented encompass a range of sexualities and gender identities. The resulting portraits invite viewers to contemplate how we represent our sexuality and gender and to reflect on our capacity for intimacy.
Opening reception
Tuesday, January 21, 5:00-6:00 p.m.
Artist talk
Saturday, February 22, 11 a.m. - noon, University Art Gallery
Keynote address, Truman State University Women's and Gender Studies Conference
---
March 17 – April 17
Annual Juried Student Exhibition – in the main gallery
Guest juror: Barry Anderson
Come view some of the best recent Truman student artwork, juried this year by Barry Anderson, Professor of Art at the University of Missouri, Kansas City.
The Janus Restraint – Barry Anderson – in the cube
New media artist Barry Anderson's project The Janus Restraint, which he has been exhibiting and developing since 2012, explores the connections between adolescent identity and the natural world. Each installation of The Janus Restraint involves a different selection of objects and videos, that provide a unique view of the project.
Beneath White Tents – in the Charlyn Gallery
Beneath White Tents explores the late nineteenth and early twentieth century history of the circus through a group of objects selected and researched by Truman State University students from Pickler Memorial Library Special Collections.
Opening reception
Tuesday, March 17, 5:00-6:00 p.m.
Because in-person classes at Truman State have been suspended for the week of March 16-20, the gallery will remain closed for the time being and this opening reception is canceled. If conditions allow, we hope to host a closing reception in April.
---
March 20
Circus! Friends of the Gallery Fundraiser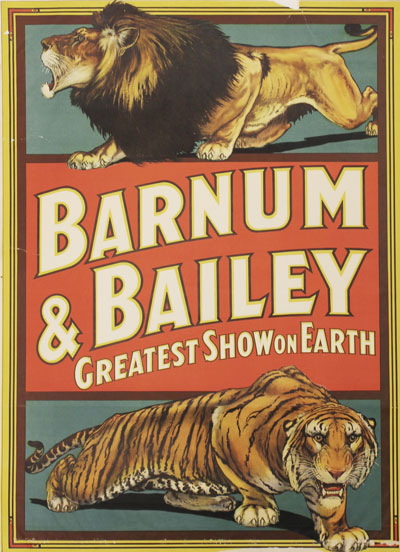 Out of an abundance of caution for our patrons, the Truman State University Art Gallery fundraiser will not take place this Friday, March 20. We will attempt to find another format to share and celebrate the gallery's achievements this year. Of course, donations are always welcome and will go toward next year's roster of amazing exhibitions. You can donate here.
The theme of the twenty-first annual Friends of the Gallery fundraiser is Circus! It draws on our exhibition Beneath White Tents, which opens in the Charlyn Gallery that week. This annual event is designed to help financially support the University Art Gallery, so we can continue to produce exciting, high-quality exhibitions for students and community members alike.
6:30 p.m., Friday, March 20, 2020
Suggested donation is $40 per person
Please RSVP by March 13 to: stuckerpotter@truman.edu | 660-785-4133.
---
April 20 – May 1
UMKC Student Art Exhibition – in the Charlyn Gallery
---
April 27 – May 1
BA and BFA Thesis Exhibition
Closing reception
Friday, May 1, 6:00-7:30 p.m.
---
Visit Us
The University Art Gallery resides in the renovated gymnasium in Ophelia Parrish Hall located on Truman State University's campus near the intersection of East Normal Street and South Mulinax Street. Exhibitions are free and open to the public.
Gallery Hours:
Monday – Thursday 8:30 a.m. – 7:00 p.m.
Friday 8:30am – 5:00 p.m.
Saturday Noon – 4:30 p.m.
Please note, the University Art Gallery is closed between exhibitions and during all Truman State University breaks.
Parking
During regular business hours, free on-street parking is available on S. Florence Street and S. Mulanix Street. After hours and on Saturdays, you may park in the university parking lots off E. Normal Street and S. Davis Street for free.